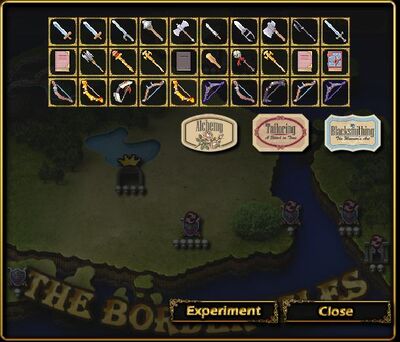 Blacksmithing is one of the three categories of crafting in Arkandian Explorer. With blacksmithing, one can make a variety of socketable weapons.
There are thirty blacksmithing recipes in total, and all can be unlocked, three at a time, from the repeatable "Insane Blacksmith's Dungeon," which increases in difficulty each time it is cleared.
Each recipe has a base chance of success. Your blacksmithing AND artistry skill levels add to this. Some weapons have a negative base chance and therefore require high levels of blacksmithing and artistry to have any chance of success.
The blacksmithing skill can be trained by using any of recipes below. Each attempt, regardless of success or failure, has a chance of increasing your blacksmithing skill.
There are a few quests that will give you a permanent bonus to your blacksmithing skill as well as the rare potion of training.
Weapons & Recipes
Edit
Useful Shortsword - 2d6 damage, 1 socket, Weight 8 
Ability: Strike, Base chance of success: 60% 
Malleable Sword - 4d4 damage, 1 socket, Weight 12
Devious Machete -  5d4 damage, 2 sockets
Buildable Mace - 2d10 damage, 2 sockets
Buildable Battleaxe - 3d10 damage, 2 sockets
Deceptive Knife - 5d6 damage, 3 sockets
Cunning Katar - 8d4 damage, 3 sockets
Handleable Hatchet - 4d10 damage, 4 sockets
Halberd of Wonder - 8d6 damage, 4 sockets
Supreme Godlike Sword -  12d6 damage, 1 socket
Critical:10%
Pierce:20
Hit Points: +40
Scriptable Spellbook - 2d6 damage, 1 socket, Weight 8 
Ability: Magic Arrow, Base chance of success: 60% 
Screwtop Staff - 4d4 damage, 1 socket, Weight 11 Ability: Magic Arrow
Malleable Staff - 5d4 damage, 2 sockets, Weight 15 Ability: Fireball
Rebending Staff - 2d10 damage, 2 sockets 
Unwritten Book - 5d6 damage, 2 sockets, Weight 8
Wonder Wand - 6d6 damage, 3 sockets, Weight 5 
Ugly wand - 4d10 damage, 3 sockets
Gem Holey Staff - 10d4 damage, 4 sockets
Spineless Spellbook - 8d6 damage, 4 sockets
Supreme Godlike Grimoire - 12d6 damage, 1 socket
Max Mana: +25
Spell Damage: +25
Mana Leech: 10%
Shining Shortbow - 2d6 damage, 1 socket 
Malleable Longbow - 3d6 damage, 1 socket
Sneaky Snakewood Bow - 4d6 damage, 2 sockets, Weight 8
Bendable Swiftbow - 3d10 damage, 2 sockets, Weight 6
Transformable Bow - 8d4 damage, 2 sockets, Weight 12
Forgebow of Manipulation - 6d6 damage, 3 sockets
Shocking Shortbow - 10d4 damage, 3 sockets
Customizable Bow - 5d10 damage, 4 sockets
Satisfying Swiftbow - 9d6 damage, 4 sockets
Supreme Godlike Bow - 12d6 damage, 1 socket
Life Leech: 10%
Hit Points: +40
Resist Bonus: 10%