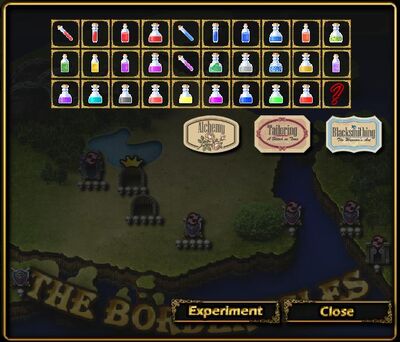 Alchemy is one of the three categories of crafting in Arkandian Explorer. With crafting, one can make potions that restore health or mana, give temporary combat boosts, augment one's character or  equipment, or change hair colour.
There are thirty alchemy recipes in total, and all but one can be unlocked by the repeatable "Crazy Alchemist's Dungeon," which increases in difficulty each time it is cleared. The 30th recipe (Pink Hair Dye) is available if you have completed an achievement in the previous chapters. 
Each recipe has a base chance of success. Your alchemy AND artistry skill level adds to this. Some potions have a negative base chance and therefore require high levels of alchemy and artistry to have any chance of success. 
The alchemy skill can be trained by using any of recipes below. Each attempt, regardless of success or failure, has a chance of increasing your alchemy skill. Repeatedly crafting minor healing and minor mana potions are recommended for training your crafting skill.
There are a few quests that will give you a permanent bonus to your alchemy skill as well as the rare potion of training.
Potions & Recipes
Edit
Minor Healing Potion - Heals 3d6
Base 70% chance of success
Healing Potion - Heals 8d4
Base 60% chance of success
Major Healing Potion - Heals 10d6
Base 40% chance of success
Super Healing Potion - Heals 20d4
Minor Mana Potion - Restores 3d6 mana
Base 70% chance of success
Mana Potion - Restores 8d4 mana
Base 60% chance of success
Major Mana Potion - Restores 10d6 mana
Super Mana Potion - Heals 20d4
Elixir of Accuracy - Temporarily increases hit chance by 60%
Potion of Pure Rage - Temporarily increases damage by 150
Super Dodge Potion - Temporarily increases dodge skill by 60
Super Arcana Potion - Temporarily increases spell damage by 60
Potion of Restoration - Restores & heals 6d4 mana & health
Potion of Perfect Health - Restores & heals 20d4 mana & health
Potion of Criticality - Temporarily increases critical chance by 80%
Elixir of Twisted Fate - Grants Divine Intervention buff (upon death, character is restored to life with 25 health)
Oil of Enhancement - Enhances weapon by 1 die (e.g. changes 3d10 to 4d10)
Elixir of Harnessing  - Permanently increases max' mana by 5
Base change of success < -120%
Elixir of Toughening - Permanently increases max' hit points by 10
Oil of Polishing - Enhances armour by 1 protection point
Purple Hair Dye
Blue Hair Dye
Black Hair Dye
Red Hair Dye
Yellow Hair Dye
Cyan Hair Dye
Dark Blue Hair Dye
Green Hair Dye
Deep Red Hair Dye
Exclusive Hair Dye (pink, hidden)